What is a Card Security Code?
In our ongoing efforts to provide a secure shopping experience, we require your Card Security Code. It is a 3 or 4 digit number that appears only on the card itself, not on receipts or statements. For your security, we do not store the Card Security Code and will ask for it each time you place an order.
Your card Security Code can be found in the following locations on the following cards: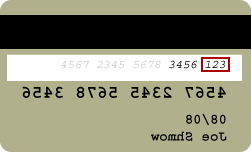 Visa
The Card Security Code for Visa is a 3-digit number on the back of your credit card immediately following your credit card number. In this case, the 123 highlighted in red.