EasyOrder provides a proven path for successfully marketing your business.
We give you the tools for success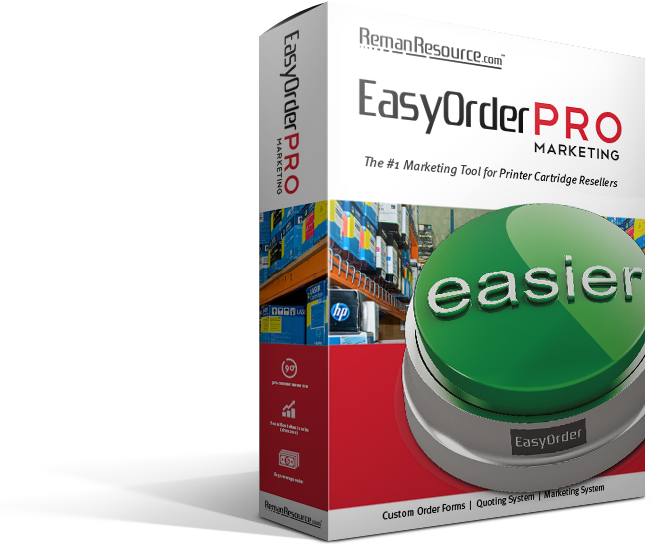 Limited time offer!
$99

/mo
EasyOrder is the most effective $99 you could spend on your business each month. No other marketing program will give you this much oversight, control and return on investment.
Questions?
EasyOrder Features
expand all
|
collapse all
EasyOrder can help you sell more toner
No matter what your level of marketing experience EasyOrder has been proven to help you sell more ink and toner. We have been in business for 12+ years helping dealers sell more product. If you have a website already, even if you have e-commerce, you can still use EasyOrder. It's just another tool in your marketing tool belt to set you apart from your competition.

Put all your customers on it, with a 90% reorder rate, they aren't going anywhere. Some subscribers only put their best B2B customers on the system making sure they are catered to and treated like VIP. We refer to EasyOrder around the office as B2B, VIP!
Setting up customers is simple with our Customer Management system
EasyOrder's advanced import/export tools take any spreadsheet based customer data (.csv/.xml) and quickly import your customer base. This process works very similar to the way Constant Contact imports mailing lists. This saves valuable time by allowing you to skip the manual data entry of each of your preexisting customers.

You can also take any customer data entered into EasyOrder and export a data file of your customer info based off order frequency or for email newsletter marketing etc. Export just a list of customers who haven't ordered in 90 days so you can follow up. EasyOrder keeps you in-front of your customers.
Price management tools allow quick import of your Products and Pricing
EasyOrder's advanced import/export tools allow you to take any spreadsheet based data (.csv/.xml) and quickly import your product pricing. Our simple to use price management tool allows you to import your custom pricing into three different product categories Reman / Compatible / and OEM but you can always rename them to suit your needs.
Manage a Sales Team with EasyOrder
Create an unlimited number of secure sales accounts for just $5/mo extra. EasyOrder gives you the tools to manage any size sales force. You can assign a unique username and password for each member of your sales team. They only have access to their own customers or quotes and cannot see your main customer data/accounts. If a sales rep leaves your company - all their clients fall into your default or house account upon deletion. You can run reports on each sales rep and track their progress with ease. Start building your sales dream team with EasyOrder.
Licensing support for Multiple Locations
Have more than one location? For an extra discounted fee per physical address EasyOrder supports as many extra licenses as you need. The pricing import/export tool allows you to keep pricing similar between accounts or have each location maintain their own product data and pricing.
Stay in front of your customers with Order Frequency Email Reminders
How do you know when your customer stops ordering from you? Most of the time you don't. With our system you can set a reminder for one customer 30 days,(for example) and if they have not ordered in the time frame specified EasyOrder sends you a email notice to check on them.

Each customer can have their own variables depending on their unique ordering patterns. This gives you a system to make sure no customer will ever slip through the cracks and if they stop ordering you can contact them to find out why.
Create Order Form Templates and quickly replicate order forms over Multiple Locations
Do you have customers that have the same printers in multiple locations? No problem. Create an order form template and replicate that template again and again.
Our Purchasing/Approval System allows any type of Purchasers to approve orders
Do you have customers that have central purchasing - but also need to send the order to another higher level purchasing agent for approval? Our Approval System allows you to set up any purchasing scenario.

Let's say a location orders and then the Central Purchaser get an email that states "You have new orders to approve." When the Central Purchaser approves the order it gets sent up to the Highest Level Purchaser for final approval.

After the final purchaser approves the order it is locked and email notifications are sent out to each party involved so everyone is in the loop. When you get the final approval email, the order is approved and cleared for you to ship out.

That's just one scenario, you can set up any purchasing department just the way they operate with EasyOrder's Purchasing System.
Benefits
expand all
|
collapse all
We have industry experience and understand your customers needs.
What sets us apart from other software providers is that we started in this industry with a brick and mortar cartridge business. That means we understand the day to day needs of a cartridge reseller. This perspective is how we came up with a system that meets the needs of your customers and promotes loyalty. We know you have to keep it simple and make ordering easy.

Although we sold our business in October 08 we still keep our finger close to the pulse of what is working for the industry and continually develop new features based directly from the feedback of our subscribers.
Retain your customer base. Offer the value of convenience.
A customer who orders through a desktop type application like the one we provide is 90% more likely to click on their ordering icon than pick up the phone or go online to a "Big Box" retailers website. That is a HUGE retention rate!

Your customer will always choose the most convenient method of ordering, make sure you are the one providing it.
Have a system to handle Government or Corporate clients.
Use EasyOrder to go after larger school or government business contracts. Some of our subscribers say that EasyOrder has been the deciding factor in them winning bids or getting regional/national accounts.
Expand your sales radius to anywhere you can ship to.
Some of our subscribers have gone to ONLY GMO and School contracts because of the power of EasyOrder.
Use EasyOrder as an alert system if you have a "retail" business model.
Some subscribers who have a "walk-in" retail business model actually use EasyOrder as an "alert tool." They set each walk-in type customer who wants this service with an EasyOrder account.

This customer may only have one printer at home, but they can also have an icon on their desktop. This is perfect for when they run out of ink at 10pm at night, they can "alert you" or reorder with one click as they run out or getting low.

This way you have the cartridge ready for them to pick up in the morning or the next time they come in and they don't have to wait.

Another value added service that keeps your customers ordering from you every time.
Eliminate order intake error with instant email order confirmations
By using EasyOrder, you can reduce your phone call volume and streamline your order process, saving your staff valuable time to concentrate on sales.

You almost completely eliminate order intake error because your customers aren't having to remember long unfamiliar OEM model numbers just to order the cartridges they need.
Lock in Customer Loyalty with the power of Convenience.
Customer loyalty is hard to earn. You can make it almost guaranteed with the power of convenience. If your online ordering experience is simple and easy for your customer, it creates a strong customer retention rate.

EasyOrder subscribers have almost a 90% retention rate after the customer orders the first time. It's that easy.
OEM pricing is monitored to keep up with current retail pricing
We keep up with the current OEM retail pricing so you don't have to. We have a system that updates pricing for most major brands daily based off popular Big Box websites retail pricing, saving you valuable time and effort. Let us do the heavy lifting.
Freqently Asked Questions
expand all
|
collapse all
Do you only work with Cartridge World stores?
NO! We work with any ink and toner dealer. While we are the #1 marketing and ordering system in the largest franchise in the world, we work with everyone. From a large company doing 250K per month to a small dealer that does less than 10K/mo. We can help any business sell more toner.
Are there any hidden start up costs or long term commitments?
To make it easy, we draft a credit card and you are automatically billed on a monthly basis based on your subscription and add-ons and order volume. There are no set up costs, no contracts and your subscription is month to month. We are so confident that EasyOrder will grow your business and retain your customer base there are no contracts, cancel anytime. All you have to do is use it!
Do I need my own hosting in addition to my EasyOrder account?
No, we host all the data on our servers so no extra hosting is needed.
Can EasyOrder be used as part of my own website?
Yes! You can link directly to your EasyOrder account from your existing website with the addition of two simple buttons. GET A QUOTE and MY ACCOUNT.

From the GET A QUOTE button, you can have customers get their own quotes. Every quote has a BUY NOW button at the bottom. If the customer clicks on that button it instantly turns their quote into a live order form that they can purchase from on the spot. If you have credit card processing as a feature, the customer can even check out and pay for their order - all from the first time you interact with them!

Under MY ACCOUNT, your customer can sign up for an EasyOrder account right from your existing website, watch a demo video, or current customers can log in to their accounts.
Can my customers set up their own order forms?
We do now have a way for the customer to go from a link on your website to sign up for their own account, create their order forms and place an order. All without any effort from you!

Quotes too. From a button on your website, you can send them to a page where they can request a quote, get instant pricing back and place an order all from the first interaction with you. We found people using our quote system close 30% more quotes than traditional quoting.
If you host the data how do I know my customer data is secure?
We understand your customer data is very important and confidential. We take great steps to make sure you know your data is secure with us. Our application is encrypted with a Secure Server (SSL) so all your data is 100% digitally secure.

You accept the terms of our Non-Disclosure agreement from the moment you sign up for the free 30 day trial. You can also refer to our strict privacy policy at the bottom of any page of this website.We only use your customer data to serve you and your customers ordering needs.

We have many subscribers that have Government clients with very high security use EasyOrder with no problems. If you ever cancel your subscription all your stored customer data gets deleted with your account.


Do you sell products like ink and toner cartridges?
No. Although our roots are in the cartridge industry We are 100% a software provider.
How many customers can I put on EasyOrder?
You can put an unlimited number of customers on EasyOrder. Since the system is mainly for B2B business we encourage you to put as many customers as you can. Many of our subscribers are able to set up and handle customers with hundreds of locations all across the country because of EasyOrder.

Many times subscribers will get into one location of a large company and they will like the ordering experience so much that they start servicing ALL the locations eventually. We help subscribers set up accounts all the time for 500+ locations.
Do I or my customer have to install software to use your system?
This is a 100% online based application. You don't have to install anything to administer the system and can do so from any computer, tablet, or phone with an internet connection.

We do have a branded .exe version of our desktop ordering icon for the customer that is a simple install file that is branded to YOUR business and just tells the computer to open a web browser and log them in to their account.

We also have a standard html desktop icon acts just like a regular bookmark or favorite and cannot harm any computer in any way. IT people love this as it gives their people convenience but they do not have to support any issue with software installation.
If it's a free trial, why do you need my credit card?
Once your free trial has ended, your membership will be automatically renewed at the monthly subscription rate plus any add-ons you choose. This is so you can continue using EasyOrder without interruption. You will never be charged during your free trial, and you can cancel at any time.
How long is the Free Trial offer and when will I be charged?
The Free Trial is 30 days. Your credit card will not be charged until after the free trial offer period. You will never be charged during your free trial, and you can cancel at any time.
Getting Started
expand all
|
collapse all
How do I get started?
Click "30 day free trial" at the top right of any page. Or Request a Demo where one of our reps will contact you and show you the system. There are also buttons on any other page that will allow you to sign up for your 30 day FREE trial. Once you fill out our form with your information and submit it you will receive a welcome email from us.

IMPORTANT: If you do not get an email within 24 hours please contact us as the welcome email may be in your "junk" email filter and we can provide your username and password.

Usually we can send you a training video to watch, or we can schedule a one on one training. We get you up and running as quickly as possible so you can start selling to your customers.
Is this system hard to learn/use?
We work hard to make sure EasyOrder is also Easy for you to use. We have extensive online training videos that go over each feature in depth so if you ever need to see it again you have a 24 hour tutor showing you how to use the system.

We also have reps available from 9-5 (CST) and you can schedule one on one training sessions if needed.
How do I market this to my customers?
To really use this product successfully you have to trust the process. The process that from now on every Quote and ever Order will be put through EasyOrder. Start with converting your established customer base to using EasyOrder. Tell them you are trying something new, and it should make things easier for them and for you, that this is the way you take orders now.
If they call in an order, take the time to show them their custom order form. If they email you an order, show them once how much easier it is to just click on the icon. It's really simple. Follow the process and your customers will reward you with loyalty and orders.
The people with the most success using our system changed their entire order process to be funneled through EasyOrder.
Its only with this type of commitment that you truly start to be able to free your time and have a process that every one of your employees can follow so they know how to handle any customer, every time.
We also have a slew of marketing materials that you can share with your customers.
We have a customer demo video online at
www.cartridgereorder.com/demo
We also have professionally designed "Easy as 1,2,3" marketing "leave behind" piece that shows how in 3 simple clicks your customer can order products from you.
There are many other ways to utilize EasyOrder to your particular customer base so if you have questions on best practices attend our regular webinars or call your rep today to schedule a one on one training.
Our promise to you




We've got tons of features
---

While we firmly believe that doing the work for your customer is the key to success using EasyOrder, we also know that you could be leaving business on the table if you don't have a method for customers to get a quote or order directly from your website.
With that in mind we created a module that resides on your website that allows customers to create a quote or account, add their printers and then order instantly.
It gives your site an entirely new level of functionality.

Having the ability to pay for an order as soon as it's placed is a time saving feature for both you and your customers. It reduces your accounts receivable while also shortening the ordering process for any customer.
Most customers love the convenience of credit card processing and for others, such as schools or government institutions that use P-cards (purchase cards), having the ability to pay upon order submission is a necessity.
Ask one of our reps about adding this feature to your EasyOrder account.

We know that your brand is the cornerstone of your company. That's why we make sure that your branding is always in front of your customers.
Not only can we brand your order forms and quotes, but we give your customer a branded icon that resides on the desktop of their computer.
This branded icon is your silent salesperson - reminding the customer of your brand every time they are working. You can bet that the next time they need product they will remember the icon and click on it to order.

Whether you have a single sales person or a team of 50, we've got you covered.
You can tag each quote or client to a salesperson in order to keep track of the sales associated with their customers, see how many quotes they are sending, etc.
With varied levels of sales rep accounts, you also have the ability to provide external salespeople with their own log in credentials to EasyOrder that allow them to only see and work on their quotes and customers, keeping your established client base private. If they ever leave your company it's easy to delete the sales rep account and have all their quotes and customers merge into your "house" account.

We have a robust reporting system where you can run a variety of reports.
At a glance see sales by customer and a comparison to the prior year. Run an order frequency report to see which customers haven't ordered in 90 days and export the list to be used in creating a targeted an email newsletter campaign.
Set up notifications to remind you two days after a quote has been sent to follow up with that customer. Receive a notification when a customer has gone cold so you can re-engage them.
EasyOrder can assist in automating business functions to keep you in charge and organized at all times.

We are in the business of saving the environment. As printer cartridge resellers this is one of the reasons your customers buy from you.
In EasyOrder you can run Green Reports and print out a "Green Certificate" that may be presented to your customer showing them how many gallons of oil have been saved and how many pounds of trash have been kept out of landfills by reducing their carbon footprint and buying cartridges from you.
Customers love this - we have heard stories from many subscribers schools that are their customers hang the Green Certificate in the office or classrooms and some customer even mention it in their internal newsletters.
One more way to remain in front of and on the mind of your customers.