Why use EasyOrder Pro Marketing
It's the least costly, most effective marketing tool for Printer Cartridge Resellers.
Cartridges are commodities. You can buy them almost anywhere. The web has thousands of sites selling exactly what you sell. So, how do you differentiate from the masses?
Our business was founded upon the principle that if you spend the extra time to take care of your customers, they will take care of you.
In today's market you have to offer something besides cheap pricing. You need a solid product, great service and an easy way for customers to interact with you. These will ultimately lead to longevity and loyalty in your customer relationships.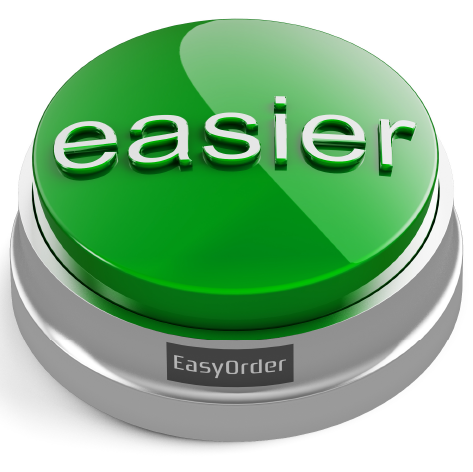 By taking the time to build a custom order form for your customer and connecting them directly to you with the desktop icon, you are doing exactly opposite of what every other website does - they make the customer to all the work to place an order.
With EasyOrder, you do everything for the customer so they have the simplest ordering experience possible. It's a simple concept, but it works.
Let's talk numbers.



Sell anywhere and cater to any customer.
From a small local business to a multi-location national chain that requires purchasing approval.
Win more business with EasyOrder.

Having a professional quote that is branded to your business will change the way a potential customer perceives you. And you only get one chance at a first impression.
EasyOrder's quote system with savings calculator shows you mean business, and all the tracking features allow you to monitor the status of a quote from the initial touch through to conversion into the first sale.
At the bottom of every quote there is an ORDER NOW button that allows the customer to know exactly how to order from you.

We believe that staying connected to your customers is the most important aspect of doing business.
The key to EasyOrder is that we provide your customer with an ordering icon, branded to your company, that resides on their computer's desktop. This icon connects them directly to you and the ONLY products they need.
Our market research shows that once a customer orders from our desktop icon one time, the reorder rate is nearly 90% - how's that for retention!

Through many years of experience in this industry and customer feedback, we have perfected the traditional ordering process and simplified it down to just 3 clicks. With EasyOrder your customer clicks on the icon, enters quantities, reviews and submits the order. That's it.
EasyOrder allows you to compete with the Big Box stores and other full e-commerce sites by offering a unique and even more convenient ordering experience that anyone else.
Your customers will reward you by coming back time and time again.